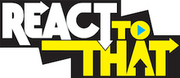 React to That is a American television series created by Nick Cannon and The Fine Bros. that aired on Nickelodeon. The show is produced by N'Credible Entertainment and Fine Bros. Entertainment. Nickelodeon ordered 13 episodes of the show, but only 12 were made. The show premiered on December 15, 2014 and ended its first season on January 1, 2015.
Premise
The show is based on the famous Fine Brothers' React series of videos which features kids, teens, elders, and YouTubers reacting to videos they view. The show features the Reactors both from the "Kids React" and "Teens React" series.
Segments
Finish the Story
Challenge
Don't Smile Challenge
Which Is...?
Real or Fake
Remix
What was your Favorite?